15 Days Rwenzori Massif
15 Days Rwenzori 8 peaks hike with local experts from Rwenzori expeditions the leading mountaineering booking agent offers discounted trips to Rwenzori Mountains National park in Uganda with optional summit via the Virunga National Park in Congo along side other hiking opportunities to mount Nyiragongo the world's largest lava lake.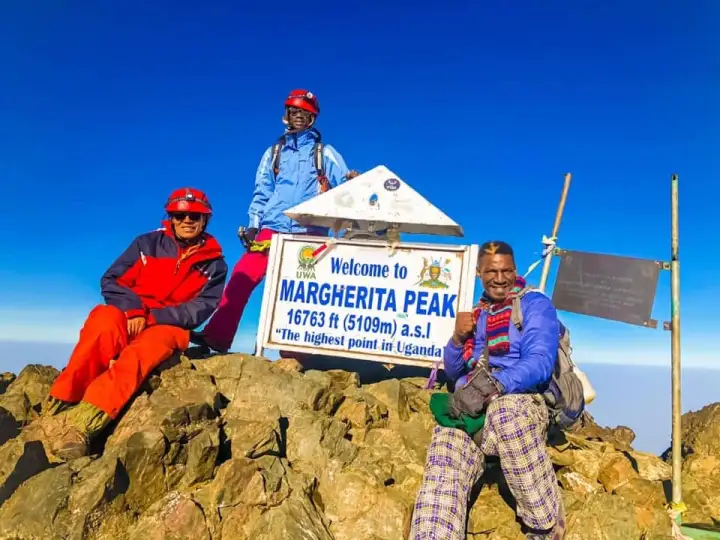 Find the ultimate journey to Rwenzori – Margherita peak tailored by experts from Rwenzori Expeditions. A hike to the mountains of the moon – Rwenzori is one of the best and adventurous experience to encounter during anyone's visit to the Pearl of Africa.
In the eastern equatorial Africa, the mountains are located on the border between Uganda and the Democratic Republic of Congo and they host the highest point of Uganda – Margherita at 5,109 meters on Mount Stanley, one of the massifs of the ranges. Rwenzori mountains' upper regions are permanently snow-capped and glaciated thus regarding them as rain-makers.
For a better experience at the mountains, there are different packages for different days and all these have a great view to offer and among these include the 15 days through the Rwenzori central circuit trail. The 15 Days Rwenzori Trekking  leads you to all the amazing 8 portal peaks as you enjoy the white surfaces and great views.
Trip Summary 15 Days Rwenzori Trekking 8 Peaks in Rwenzori Mountains
Day 1: Nyakalengija 1650m - Nyabitaba camp 2650m
Day 2: Nyabitaba camp 1650m – John matte camp 3505m
Day 3: John matte camp 3505m - skull cave (pitch a tent)
Day 4: skull cave camp - lac de laluna camp (tent pitch)
Day 5: lac de laluna - mount Gessi. 4800m (Congo side peaks)
Day 6: lac de laluna camp - mount Emin 4900m.
Day 7: lac de laluna camp - bigo camp 3505m
Day 8: Bigo camp 3505 m - Bujuku camp 3900m
Day 9: Bujuku camp 3900m - mount Speke (Victoria Emmanuel peak 4520m.
Day 10: Bujuku camp 3900m - Elena camp 4541m
Day 11: Elena camp 4541m - margherita peak 5109m and Albert peak at once and return back to Elena camp.
Day 12: Elena camp - Alexandria peak.
Day 13: Kitandara lakes camp - summit Weismanns and luigi de savior peaks
Day 14: Fresh field camp - mount Baker
Day 15: Guyeoman camp 3505m - Nyabitaba camp.
on 15 Days rwenzori trekking you will cover the six massifs separated by deep gorges that make up the Rwenzori Mountains: